Mediocrity. No one really wants mediocre. We don't really want a mediocre life. We don't really want a mediocre job. We certainly don't want a mediocre marriage or relationship. And I certainly don't know anyone hoping for a mediocre income!

Mediocre is defined as:
Neither good, nor bad; but not satisfactory
Poor quality
Inferior
Barely adequate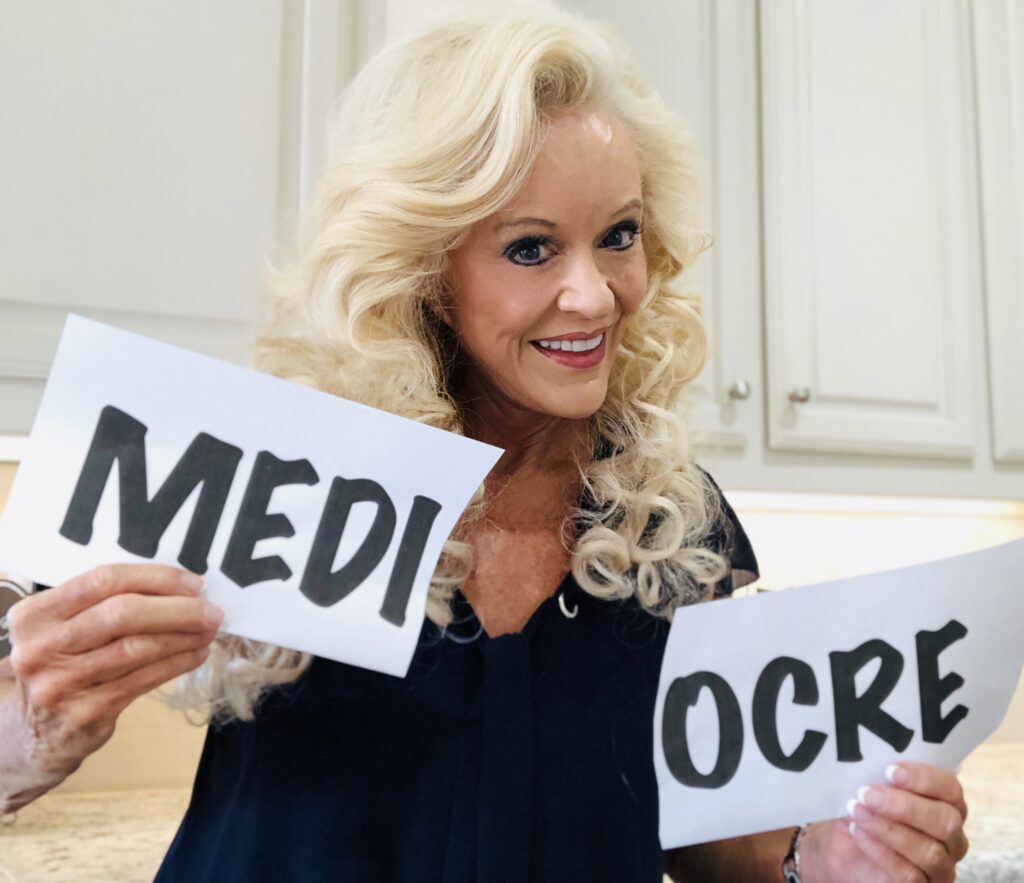 One of the questions I'm most famous for asking in my practice is this: "why would you settle for mediocrity in your __________, when you can have extraordinary?"
You fill in the blank for yourself. Maybe it's your job, maybe it's your relationship with your adult children, maybe it's your daily life. But whatever you would fill that blank with, why not choose extraordinary?
But to choose extraordinary, you must know the number one contributor to mediocrity: Your comfort zone!
Yes, the comfortable place you build for yourself. That place where everything is predictable and where you feel completely safe. We all have one, and it's a good thing as long as it's a place to visit. But it's not the place to park a recliner and a remote control so we can spend most of our time there.

Our comfort zone keeps us nice and safe, but extraordinary is never found there. Extraordinary is always, 100% of the time, out of your comfort zone.

My experiences growing up were likely like those of most of you. A mediocre trumpet player in junior high, I decided to push my limits in high school and step it up a bit. I did this by deciding to play a solo in a concert, "I left my heart in San Francisco!" As I was being introduced, I was so sick to my stomach that I was certain that I would hurl! I was trembling from my head to my toes and could hardly hold my trumpet steadily to my lips. Thank God the lights in my eyes blinded me to the crowd. The two-minute solo seemed to last an hour! After my two minutes were up, I never heard the applause, because I ran to the back. I put my trumpet down and tried to calm the violent internal and external shaking before others saw me.
Over the next few days my band director, who was quite influential in my life, managed somehow to talk me into continuing to play. Listening to my band director, and summoning my courage each time, my playing resulted in my winning a Doc Severinsen trumpet, a prize I still treasure today. But the terror played out each time I played the solo. I didn't know to call it "stepping out of my comfort zone" at the time. For years after I stopped playing trumpet, I backed away from public performances.
But as a young adult, I began traveling in a music, sign language, and drama team that performed all over the world. I was just a part of the drama group, and it was easy to hide in the background there. It was a little bit outside of my comfort zone but I learned to manage it. However, as is often the case fate came knocking: one night the lead singer became sick with pneumonia. I was asked to step into her role. Something inside me said, "it's now or never." I knew it had nothing to do with singing … I knew I could sing the part! I knew it had to do with finding the courage to step out of my comfort zone.

I share all that to say that I totally understand the discomfort, or sometimes agony, that comes with stepping out of your comfort zone. Maybe jumping 50 feet out of the gate like I did the first time is not the best approach! But little by little you can expand your comfort zone by stepping out of it.

Here are some examples of how you might take baby steps:
1. Volunteer at a place that is a bit uncomfortable for you. Perhaps a battered-women shelter, or an Alzheimer's care facility. Just half an hour or an hour will start the process.
2. Make a phone call that might be a little uncomfortable for you. For example, call and speak with the owner of a business, and suggest a minor change that might be beneficial to them. I remember calling a small family-owned discount store in my Mamma's little home town. We would get home with plastic bags full of her purchases, where the checker had tied the handles in double knots. Mamma would struggle to get the knots loose. I suggested that perhaps they just put one slip knot in it so that older people could open their packages easier. The owner was very grateful for the call, but my real purpose was practicing stepping outside of my comfort zone. And doing something for my Mamma made a very scary opportunity much easier.
3. Try a physical activity you've never tried before. Never been allowed on a pair of roller skates? Try it! Never ridden a Ferris wheel? Try it! Never done rock climbing? Try it! And beware that most of the time, "excuses or reasons" are simply a way of holding onto your comfort zone. Go do it!
4. Eat something you've never eaten before! Try Thai food. Try sushi. Try grits. You might not like it enough to eat it again, but you might have an experience outside of your comfort zone!
5. Go on an adventure that you have never been on before. Go drive a race car. Ride a horse! Bungee jump. Go scuba diving. And if you want to really take a leap outside your comfort zone, jump out of a plane!
I think you get the idea. Once you begin to stretch outside yourself you can begin to dream bigger and envision greater things for your life. It's very difficult to dream great things while you're in your comfy recliner with a remote control in hand. I know I never dreamed of climbing the tallest freestanding mountain in the world. But when I stood atop Mount Kilimanjaro, I knew that extraordinary looked different from there! Not only did it look different, but it looked possible!

One of my greatest understandings of extraordinary came through an experience with some of my best friends. We were all at a conference together, and they were considering making an investment of millions of dollars into a company in California. They had been considering the investment for quite some time. The moment had come for them to make their decision, and they reached out to a great California pastor, Che Ahn, for counsel. I was there when they were speaking with him. After outlining the question and asking for his wisdom, he said something very interesting, something that has been foundational for me since that day: "Sometimes when you are standing before something great in your life, faith is spelled differently than you might think. It is often spelled R*I*S*K.
Yes, sometimes risk is a good thing.

I'm not speaking of careless risk here. I'm speaking of being diligent at looking at the situation and evaluating it. But not evaluating it for so long that you enter your comfort zone of "analysis paralysis."
I've been helping people achieve extraordinary in many areas of their lives for years. I've dedicated the last 17 years to training and certifying life coaches to help others find extraordinary in their lives. In that process, I've had the opportunity to see thousands of people affected with extraordinary!
But someone is missing, and that someone might be you. I hope you will begin taking steps outside your comfort zone, dreaming bigger, and welcoming extraordinary into your life. You can do it! You were born for this!