It was 1978, and I was still naïve and green behind the ears. But there was just something different that year. It was the first time in my life that I dared to shoot for extraordinary. I didn't even know what extraordinary really meant… But I was determined to find out if it was real. One thing I knew for sure … I was tired of settling for ordinary.
You know what I mean. The same thing over and over. No real meaning … Just getting through one day and then on to the next, and the next, and the next …
I had made New Year's resolutions before that, but they contained things such as … make better grades; study more; eat less junk food. But like most people, I forgot what they were long before the end of January came.
But this year was different. I knew I wanted my life to have more meaning, although I was neither mature enough, nor knowledgeable enough, to know how to make that happen.
I was on the road traveling with a singing group, and we had visited a church where I had heard a very interesting message. The pastor was speaking about the health benefits, the emotional benefits, and the spiritual benefits of fasting. And he said something that really caught my attention: "Fasting gets God's attention to help you reach your goals and dreams." I didn't know if that was true or not, but I wanted something different badly enough to give it a try.
Largely due to that message, I decided to write down three goals, and to do my best to move from ordinary into extraordinary with my life in 1979.
On December 30, 1978, I set three goals (they were giants for me) for the coming year, having no idea how I might accomplish even one of them:
1. To fast all food the first week of January, drinking only water for those seven days.
2. To establish a summer camp for deaf kids in the state of New York. (That was our homebase at the time).
3. The music, sign language, drama team that I traveled with had been doing the same program for years, and I decided I would create, choreograph, and put the music together for a whole new program.
All three were laughable had you known me at that time. However, I just decided to put myself out there. I wrote them down just a few hours before we rang in the New Year with a performance at the Atlanta Yacht Club. After that, we were traveling cross-country from Georgia to California in a van. So I knew I had plenty of driving time and riding time to contemplate these things.
I didn't tell a soul what I had written down. But the more I thought about them, the more excited I became. Of course, by noon on January 1, I was no longer excited about the goal of fasting for an entire week. But I decided in my mind that accomplishing the other two depended on me fulfilling my first goal. Little did I know how connected they were!
That year, I tapped into extraordinary. It wasn't what I thought it might look or feel like, but it was even better than I had imagined.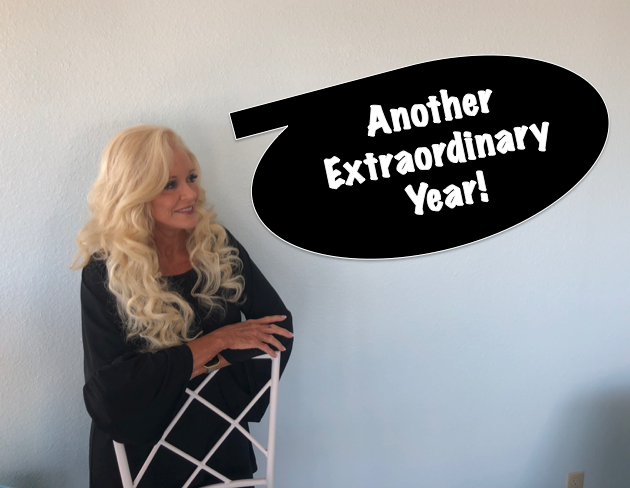 Since that time, I have faithfully set goals for each New Year. Many of my clients, students and Life Coaches reach out to me at this time of year to find out my "secret sauce" to setting and accomplishing my goals. I thought you might find it helpful as well. So buckle your seatbelt, and here we go to an extraordinary year!
As I shared in my blog last week, "How ONE Word Can Change Your Destiny" (click here if you missed it), the first thing I do is select a word that describes who I want to be/become for the New Year. Then I use it as an acronym using each letter of the word to describe a facet of who/what I want to be/become.
Once I have done that, I keep the word in mind as I set my goals. It provides a great litmus test to see if my goals are moving me toward who I want to become in the upcoming year.
Then I set a goal for each of the seven core areas of my life. I use the word "RESPECT" to identify those 7 core areas:
R elationships
E nergy & health
S piritual growth
P urposeful living with priority
E motional mastery
C areer & finances
T eaching/touching others
Then I set a specific goal for each of those seven areas, making sure that they will support who I am wanting to become throughout the year.
I hope you will do both of the two steps I mentioned above:
Select the word that best describes who you would like to become in 2020. Then use it as an acronym to describe more thoroughly who you want to be/become.
Set a specific goal for each of the 7 core areas of your life. Make sure that the goals will move you to become who you would most like to be in the coming year.
I've always been a huge fan of Zig Ziglar. One of the things he emphasized was how crucial it is to make sure our goals are aligned with who we want to be. He used the story of Judas to drive the point home. He tells how Judas' goal was simply to make money. However, the way he went about that goal turned him into a betrayer. The goal was not bad, but who he became in the process was certainly not who anyone would want to become.
I do believe that goals require more development to take root, so I will share my additional steps taken to insure another extraordinary year.
Here are my additional steps:
3. Identify your "fire in your belly" for each of them. (You can read more about that in my blog on "Get Out of the Messy Middle" by clicking here. Your fire in your belly is your "why.")
4. Identify your "fire on your backside" for each of your goals. The same article I mentioned above also talks about having a "fire on your backside." The "fire on your backside" are the things that you will lose or miss out on if you fail to keep moving forward on your goals. It will keep you going when you want to give up!
5. Determine what you will need to say YES to and what you will need to say NO to in order to accomplish each of your goals. For example, one of my goals (in the area of energy and health) this year is to regain strength in the arm that I injured severely and have had multiple surgeries to repair. As an official bionic, my surgeon recently encouraged me to get to the gym 3 to 5 times a week and do some specific exercises. I will need to say YES to making time for myself when the gym is open, and put it in my calendar weekly. I will need to say NO to clients who want last-minute appointments during times that I have blocked out for my gym workouts. That's one simple example.
You may be thinking: "Wow… That's a lot of trouble!" Well it does require some time, energy and investment. However, I've learned that the result is an extraordinary year! The cost of investing time and energy for an extraordinary year… making a difference in lives? Priceless!
No, that's not all. I don't put them away and hope they come true. These are the next two things I do:
6. I print them and place them in the front of my planner. There is something about seeing them there that reminds me why I am embarking on each new day!
7. Every morning I read them out loud. And I don't read them like I am bored or half asleep. I get myself in a peak moment, and I read them out loud with great enthusiasm dancing around my bedroom and bathroom. I want them anchored into every cell in my body!
What do I do if I meet them? Well, first there is a big celebration! And after the celebration, I set a new one and add it to my daily routine.
Am I done yet? NO! Not just yet! One more thing:
8. I take my word for the year, what I've written about who I want to be/become … then I take all of my goals, and I write a POWER PROCLAMATION! I learned this years ago from my good friend, and amazing mentor, Vikki Burke. (She has a new book out that you MUST read! Click here to order your copy of: "Help! It's Dangerous Out Here!").
My power proclamation is a series of statements that bring it all together. Not weak statements! POWERFUL statements. Last year, this was part of my POWER PROCLAMATION:
I have found my place
And I have found my voice!
I will LEAD and not follow
I will BELIEVE and not doubt
I will CREATE and not destroy
I will ENCOURAGE and not tear down!
I have "settled" for too long!
TODAY I STEP UP to DEFY THE ODDS!
On this day I set a new standard
and I expect and accept God's BEST for me!
Then each morning, after I have practiced gratitude, read my POWER WORD (and descriptions using my power word as an acronym) aloud, danced around reading my goals … THEN I stand tall, courageous, and determined as I powerfully proclaim my Power Proclamation!
The result? God's blessing for another extraordinary year. This year is no exception! I have my new power word carefully selected, using it as an acronym to describe who I am praying I become in 2020. My goals are carefully written, and I am placing the finishing touches on my new Power Proclamation. I know it will be an EXTRAORDINARY year! Why do I believe this so strongly? Well, it all started with those three goals I wrote for 1979.
I was hungry. It was January 3rd. We had made a stop for food, and everyone jumped back in the van. I was drooling for the taco's from Jack in the Box. I could smell a chicken sandwich from What A Burger … and who knows what else. I volunteered to drive so my hands weren't available to snatch someone's food bag out of their hands!
I reflected on the message I had heard about fasting, I knew that it was important for me to pray, to do something for the poor and needy, and to take extra time to rest. I had never really done anything for the poor and needy, so I pondered that while I drove.
While on tour, we were only allowed one suitcase. All of our clothes for our performances were packed together, so our one suitcase included personal items and our travel clothes. I didn't have much with me that I could give away. But I decided to give away my coat, and all but two of my sweaters/sweatshirts. I knew that I could wash one each night, and even if it wasn't dry by morning, it would be dry by the following morning.
I didn't say anything to anyone, but on our next performance stop, I found a phone book to look up a place to make my donation. I found a listing for something called a shelter, and borrowed our group van to slip over there with my belongings.
I remember being terrified walking in the front door. I don't know what I expected to find, but I was delighted to see people sitting around a fire in a potbelly stove and singing songs in the middle of a huge warehouse, filled with cots.
I didn't quite know what to say to the receptionist at the front desk. Finally, after she asked me if she could help me two or three times … I simply said that I had some things in a bag that I would like to leave, and they were all clean. I asked her if it would be okay if I left them there. She peaked into the bag, came out from behind the desk, and gave me a big hug. She acted as if I had delivered a bag of hundred dollar bills. I could not choke back the tears.
Little did I know that event would be so pivotal in my life, and began a journey of volunteering regularly at various shelters throughout the country. The real lesson for me? I had become disappointed with my ordinary life, but the life I called "ordinary" would seem extraordinary to the people I saw laughing around the fire. That changed me. I then became convinced that not only was extraordinary possible, but it would be found in making other people's lives extraordinary!
It changed me so much, that I also fulfilled my other two goals. By late spring, I had rewritten our program, and as a result, we were invited to participate in deaf camps in Louisiana, Pennsylvania, California, Arizona, and Hawaii. By summer, I had established a camp in upstate New York for deaf children from all over the state. We had an amazing summer, and I'm certain that I was affected every bit as much as they were.
Three giant goals. Three giant victories! But my goals each year since have been grounded in helping other people tap into extraordinary … and the result? An extraordinary life!
I hope you will follow the eight steps … and I can assure you, you will be on the path to extraordinary! Whether you read this at the end of 2019, in the summer or 2020, or the fall of 2022 … don't wait for the new year … START NOW! I wish you all things extraordinary!