"I want to be the best mommy in the world, and have a husband that loves me with all of his heart!" It was my response on the first day of school when my teacher required that we stand up and tell everyone what we wanted to be when we grew up. Why would a five-year-old say that? Perhaps because I had the greatest mommy in the world, and perhaps because I hoped that I would find a husband that was different than my daddy.
I loved my daddy. I love him desperately. But because he was connection disordered, I spent days, hours, weeks, months, desperately trying to connect with him.
Because connection disorder was familiar to me (although it had wounded me deeply) I grew up most comfortable in the presence of men who were connection disorder. I dated it, I fell in love with it, and I married it.
At some point, I had repeated the pattern so many times, connection disordered man after connection disordered man… That I gave up on the dream I had deep in my heart as a little girl. My greatest dream has always been to have a beautifully blessed marriage. But after hurt and disappointment, I gave it up.
What was your dream when you were a little girl, a little boy? What was your dream when you were a teenage girl? A teenage boy? What was your dream as you launched into adulthood after graduation?
And when did you give up and stop dreaming?
It happens to all of us. We have dreams and we get hurt and disappointed. Some of us quit dreaming all together. Some of us start dreaming very small dreams.But my hope for you is that like me, you will learn to dream again and that you will dare to dream big.
A number of years ago, I felt like the dreams that were buried deep in my belly began to try to push through the fallow ground of my heart. What is fallow ground? In farming terms, it is ground that is not used in a growing season. It is left idle. In general the word fallow means left idle, or becoming obsolete.
For me, it meant that I had been hurt and disappointed, and I refused to let seeds of love be planted in my heart. Because I felt the risk was too great.
But interestingly enough when we stop dreaming in one area of our lives, it affects every area of our life. So I didn't just stop dreaming Of a husband that would love me with all of his heart, I stopped dreaming of the influence I had once wanted to have in leading others to extraordinary things. I stopped dreaming about financial increase. I stopped dreaming about most everything and settled into a "one foot in front of the other" lifestyle.
Years after I had stopped dreaming, I was invited to a fundraiser, and I agreed to attend to support the passion of a good friend of mine. It was an fabulous evening. The dinner, the entertainment, and the speakers were all outstanding and inspirational. For the closing song they brought a couple on who performed a song that literally change my destiny.
There was something about the melody he was playing as he set at the piano while she was saying a few inspirational words. I can't remember what she said ,but I can still hear in my head at this very moment, the melody he was playing on the keyboard. It was unfamiliar to me, but some thing about it captured my attention … and my heart.
I began "leaking" in the first sentence of this song. The opening words were "you can make it… If you try!" Little did I know that I would go from leaking tears to flooding tears before she got to the chorus. Somehow the flood of tears reached the fallow ground of my heart and began watering a crop of buried dreams.
There were some strategic words in the song that began to open my heart to dreaming again:
"Lift your head up, you can do anything!"
"It's your time now, it's up to you. Do or die now … you know what you have to do!"
"This will be your shining moment, so seize that moment today!"
"Your faith will take you where you belong!"
"I will dare to dream the incredible, the impossible!"
At that point in my life, I began using that song as my anthem. The anthem that helped me dream again. But ultimately, it became the anthem that inspired me to call others to dream again too.
Who were those others? Well at this moment, the most important of the others is YOU! No matter who you are, no matter your age, your marital status, your race, your gender, or anything else… I want YOU to dare to dream again.
I know you've been hurt, and possibly betrayed. I know you've been disappointed, and possibly abandoned. I know you've been betrayed, and possibly mistreated or treated unfairly. But you, my friend, can dream again!
I would like to suggest three things that will propel you to dream again!
Look in magazines, search through images online, browse through your photos … and find pictures of things that you would love to have, do or experience. Even if you don't quite see how (or even believe) you could achieve them. Get a journal, and place one of those photos or images on about every third page until the journal is full. Then daily go in and make an entry about what it would be like to have what you see in each photos. Or you could place a photo on every other page and write about it one day and move on to the next. You may say, "I don't know what I'd write …" I totally understand. Just start writing. If I was at the resort on the beach in this picture, I would do ___________, I would feel ___________ . For those few moments, do not allow yourself to try to figure out how you could make it enjoy it as if you were there. Write what you might write on the back of the picture if it were a post card. What message would you write on it if you were sending it back to a good friend?
Disable your risk alarm. We all have a risk alarm that goes off when we start to dream. It tells of all of the negative outcomes that could happen. I know there was a time when my risk alarm was powered by lifelong Energizer Bunny batteries! How do you disable the alarm or take the batteries out? You don't have to ignore what the risk alarm is saying … just write it in very tiny letters, followed by a "BUT" (which is a word that erases everything written before it), and write a positive possibility in HUGE letters.
3. Select a song that helps you dream. I told you that the song I heard at the fund raising dinner, Dare to Dream, became my anthem for many years. Listen to the song you select every morning as you get ready, and every evening when you are getting ready for bed. I would listen to my song and twirl around with my arms stretched out as wide as I could stretch them, symbolizing how big I could dream. Music stirs all of us deeply. Find one that works for you. I've had many through the years, "Faith Enough" by Carmen, "Don't Stop Believing" by Journey, "We Are the World" by USA for Africa, "You're a Diamond" by Martina McBride, "I Believe I Can Fly" by R. Kelly, "Road Less Traveled" by Lauren Alaina. Find the song, the anthem, the moves you to dream.
I shared what I was writing in my blog this week with a friend this morning who said: "Well, how on earth are you going to end this one with a success story?" You're not in a heaven on earth marriage, because you're not married or even engaged. Or even in a situation leading to that!"
We both laughed out loud, and she said, "Well, I guess you can tell them you are not swiping right enough yet." Now I have to tell you that I didn't laugh. Not because I was upset, but because I didn't "get it." She educated me on what "swiping right" meant, then said, "I rest my case." Then we both chuckled.
The truth is … I have opened my heart, and I believe it will happen! And that's "my way" of "swiping right!" I can assure you that when you open your heart to dreaming again, believing again, you are sure to see great things in your life.
Do not allow hurts, disappointments, betrayals and/or loss to steal your dreams. Your past is not your destiny, unless you continue to focus on the rearview mirror. If you need help resolving or healing things from your past, please seek Coaching. This is NOT an advertisement, as my practice is full. But I'd be happy to refer you to one of the amazing Coaches I have trained and certified.
Yes, my second greatest dream was to lead others to dream to train and certify Life Coaches in my signature process that coaches people from ordinary to extraordinary. I HAVE ACCOMPLISHED AND CONTINUE TO ACCOMPLISH THAT DREAM.
I wanted to reach more people … and realized that the most effective way to accomplish that was by duplicating my signature process into others.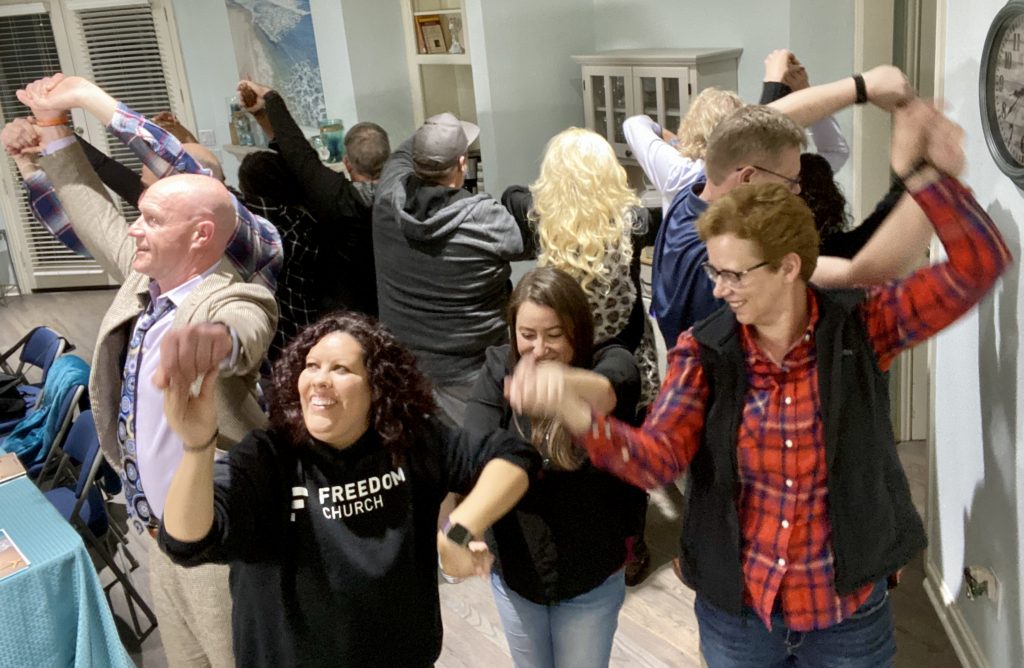 I just began another six week course this past weekend. I told them that the real definition of Life Coaching is helping others to dream again, and TO embrace the fact that there are great things ahead, greater than they ever dreamed possible.
I am hoping that, together, we can help YOU, and all of the other amazing "YOU's" out there. To heal your history, step out of ordinary and into extraordinary and learn to DREAM again! I'm cheering you on! Dare to dream again! That's my hope and prayer for you!