"The world as we once knew it is over!" I was astounded when I heard a news commentator make that statement.
Yes, this is a challenging time. But we are resilient people!
At least in my little part of the world, the sun rose this morning, and it is slipping down into the horizon right now.
Country music radio is still playing " God Whispered Your Name" by Keith Urban, and Christian music radio is still playing "Graveyard to Gardens" by Elevation Worship.
Sports and news commentators are still talking over one another and arguing on both radio and television. And my garbage disposal still does not work. LOL!
Many of my clients, students, and people from my audience have asked why I have not released a statement on COVID-19. Here is my statement, "We are in an unfortunate time in our health history, and have greater opportunities than ever to reach out and touch someone!"
Please don't misunderstand me, I am truly heartbroken for those who have lost loved ones to this virus. I am hoping that we are all being cautious and following guidelines issued. However, with both of those things being said, this is one of our greatest opportunities to slow down and connect with one another, connect with our purpose, and advance forward!
Everything is not all about COVD-19!
People unaffected by COVID-19 still need our love and support. My dear childhood friend, Becky Rogers Tishman, just lost her beloved uncle, Kenny Rogers. She needs my love, my care, and my support. A good friend of mine who is separated from her husband, lost her health insurance. She can no longer afford the medication that was holding migraines at bay, and she cares for her young son with excruciating migraines daily. She needs my love, my care, and my support. My favorite cousin is slipping away with cancer. He needs my love, my care, and my support.
Who needs your love, your care, and your support?
If we are not careful, we turn our full focus to what ever crisis is in the media, and we lose the opportunity to reach out and touch, love, and care for people who are very important to us.
I certainly stay abreast of the latest updates on the coronavirus, or whatever other crisis we might be facing. However, research has shown that staying tuned in to news programs with bright lights, jangling sounds, and dramatic and dramatized images and statistics has a major impact on our brains and therefore, on our health.
Research shows that it has a hypnotic effect on our brains. That tuning in to these things and watching them again and again cause an impact on our bodies as if it were happening to us personally. Research has even said that it can compromise our immune systems.
There is an ancient proverb that I believe is a powerful guideline during challenging times such as these. It simply says this: "Trust God and do good."
You could be thinking, "Well Dr. Neecie that's a pretty simplified piece of advice for a very complex situation."
Perhaps. I will leave part one, "trust God", of that proverb to great theologians. However, I will note that in 2003, a study was released in the Psychological Bulletin journal that examined 147 research projects that involved almost 100,000 people. It revealed that those who trusted God had significantly less depression and anxiety symptoms than those who did not express trust in God. In addition, it revealed that the greater trust in God they reported, there was exponentially greater health and less health challenges. Another study noted that in young adults, those who expressed trust in God had a 76% less chance of experiencing depression. So maybe "Trust God" is not a bad idea.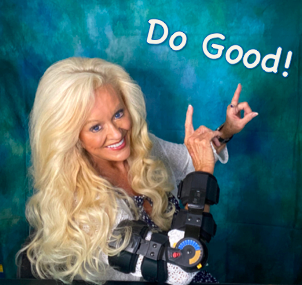 I would like to focus on the second part of the great proverb mentioned above, and look at "doing good."
Doing good can protect us from major illness in our lives. Research done by the Cornell University School of Medicine found that after following women for 30 years, 52% of those who did not regularly "do good" experienced a major illness. But only 36% of those who "did good" regularly experienced any kind of major illness.
In a study published in the American Journal of Public Health, it was found that people who "did good" for and to others, had a significantly reduced mortality rate than those who did not "do good".
Doing good has been shown to create physiological changes in the brain and its production of neurohormones, which increase happiness (published in the International Journal of Person Centered Medicine).
Additional research also revealss other health benefits of "doing good":
Reduced cardiovascular risk
Decreased symptoms of depression
Decreased symptoms of anxiety
Improved sleep
40% less likely to develop high blood pressure
Decreased chronic pain
Lower cholesterol
Increased immune response
Obviously the scientific research confirms that "doing good" could be important at all times, but particularly during challenging times, when we all need to be strong and healthy.
You may be thinking, "But I am on lockdown, in my home, so how on earth am I supposed to 'do good'?" I'm so glad you asked!
I just worked yesterday with someone asking how on earth they could "do good" under the current circumstances.
Here's the list we developed:
1. Design a card and send it. Although we are accustomed to going and shopping for just the right card that says just the right thing, pull out your creative skills and create your own card. Even if you are not artistic, you can certainly find an image on the Internet that you could print. And you could actually use the piece of paper you printed on to create your card. Create a wonderful message, and make it say exactly what you wanted to say! Put it in an envelope and mail it! The recipient will be delighted!
2. Send an encouraging text or email. With so much doom and gloom floating around, now is a beautiful time to take a peek on the brighter side of things. And share it! If you can't think of anything encouraging, share something that you are grateful for about that person. Something that they've done, or said, or perhaps just about who they are. You likely have plenty of time on your hands to craft the perfect message for each person that you reach out and touch via email or text.
3. Create a MindMovie. This is an app available in the Apple App Store or on Google play. It is designed to help you use positive quotes, pretty or personal photos or images, and select music to inspire your vision and goals. But what a wonderful thing to use it to create a short message to friends and family members with personal photos or graphics, music of your choice, and perhaps even upload some photos of you and the person that you are sending it to. What a nice and encouraging surprise this could be!
4. Put together a little gift basket and drop it at someone's front door. If you don't have a basket, a Ziploc bag, a Tupperware container, or anything will do. How about including a couple of teabags, a teacup from the back of your pantry, a few spring flowers that you could pick, and a nice note? Ring the doorbell and leave it! (OK make sure you either wear gloves to ring the doorbell, or use hand sanitizer afterwards! LOL!)
5. Pick up the phone and call someone and check on them. Sometimes hearing a cheerful voice on the other end of the phone is one of the most encouraging things that could happen. And if you happen to have FaceTime, Skype, or Zoom on your phone… sometimes some eye contact adds great richness to a conversation. Remember, yours may be the only voice that they hear today.
6. Run errands for someone while you are out running yours. If you know someone that is at high risk, or is not feeling well, offer to run errands for them while you are out running yours. Pick up something for them at the post office, get some groceries for them, get the birthday card they need for their friend. You can leave it on their doorstep and text them that they have been delivered, and wave from your car when they open the door. Or maybe even blow them a kiss! (Okay … so guys don't do that … I know!)
7. Do something helpful and nice … for no reason at all. Take their garbage cans out to the curb, or put them back inside their gate after the trash has run. Do something nice like my awesome neighbor, Vicki, who wrote: "Welcome home, Neecie!" on my sidewalk with sidewalk chalk when I moved in. Leave a cold bottle of water for your lawn guy with a note that says: "Thank you!" (Maybe that's why my lawn guy goes the extra mile for me!)
Today, my colleague and good friend, Lisa, checked in on me via text. We are both very dedicated to some similar things in our personal lives right now. She promised to support me, pray for me, and be my sounding board when things get difficult. Basically, she was saying she would "be there" for me. I committed the same to her. Then we each texted a curled little finger back and forth to make it a pinky promise. I've looked at those silly pinky photos dozens of times today. I was so blessed by her "doing good!"
We may be in lockdown, but there are no restrictions on "doing good"! It is good for the other person, and it is good for us! Never doubt our resiliency! We will get through this even stronger than we were before! But why not "do good" and make the journey for someone a little richer? And remember, the rewards and benefits of "doing good" are absolutely awesome!