"I just can't wait to see what you have for us this week … after I took that dance lesson to re-create my marriage … and made a fool out of myself!"
It has been so much fun working with this couple (I've been sharing their story over the past few weeks) that we will just keep following them. What was said next had me doubled over in laughter with tears!
"So I got out there and learned those basic steps, and then they turned on a song that I had never heard before but the lyrics were about me:"
Then some stranger asked me to dance
And I revealed to her my two left feet
Said, don't get me wrong I'm glad you asked
But tonight's about me and an old memory
… Then after three rounds with Jose Cuervo
I let her lead me out on the floor
And after four rounds with Jose Cuervo
I was showin' off moves never seen before, never!
After I regained my composure, I asked his wife if she was totally embarrassed?
She retorted with: "Well that was before his first round with Jose Cuervo!" I thought I would never stop laughing!
(Before you send me hate mail about laughing about alcohol, he is not an alcoholic! And his shots were actually "fully loaded with caffeine Diet Coke!"
I began this series a few weeks back after I began with:
Don't Murder Your Marriage & Wreck Your Relationships!
I had to follow it up with how to resurrect any relationship. Here are the five ways I shared, and am now going into each in detail weekly:
I. Change THE ATMOSPHERE AND CULTURE OF YOUR RELATIONSHIP (AND YOUR HOME)
II. JOIN HANDS AND BECOME PARTNERS … HEALING PARTNERS
III. DREAM TOGETHER ABOUT THE RELATIONSHIP YOU WANT, LISTEN WITH YOUR MICKEY MOUSE EARS ON, AND TAKE THE BARRICADE OFF YOUR HEART
IV. TAKE RESPONSIBILITY FOR WHO YOU ARE IN THE RELATIONSHIP AND TAKE MASSIVE IMMEDIATE ACTION TO CORRECT AND/OR IMPROVE IT
V. DEVOTE 30 TO 40 MINUTES EACH EVENING FOR HEALTHY COMMUNICATION, AND GRATITUDE FOR PROGRESS
This week, we are on the third way to restore or resurrect any relationship (or make good ones extraordinary!)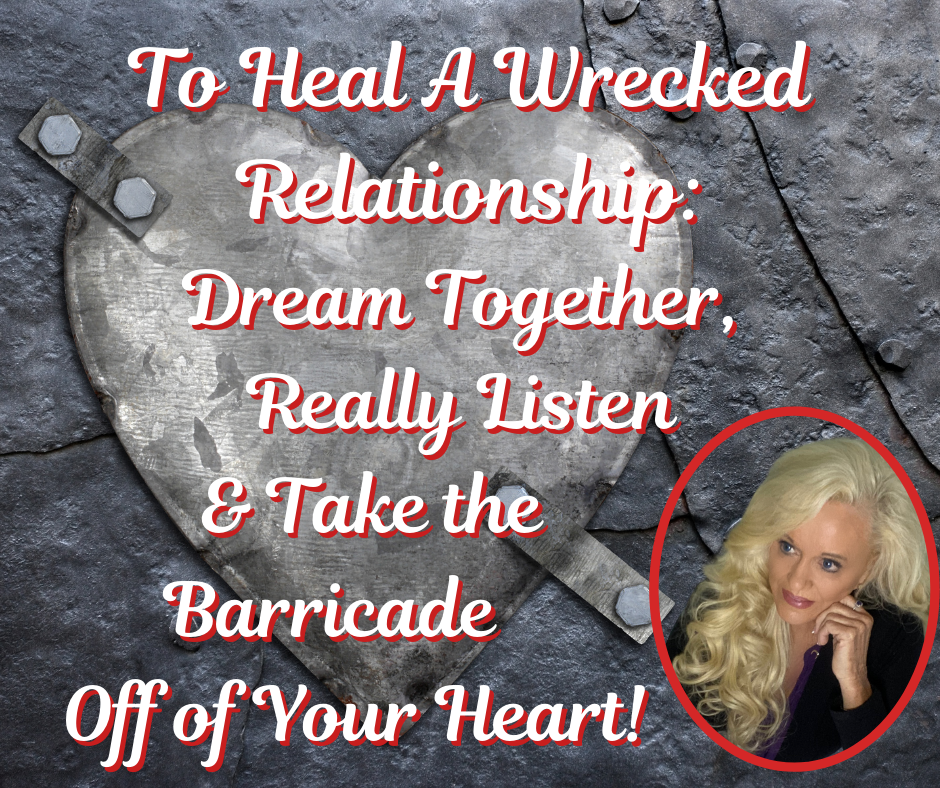 III. DREAM TOGETHER ABOUT THE RELATIONSHIP YOU WANT, LISTEN WITH YOUR MICKEY MOUSE EARS ON, AND TAKE THE BARRICADE OFF YOUR HEART.
Three things happen when people get frustrated, hurt or discouraged in their relationships:
They stop dreaming and certainly stop dreaming together
They stop listening to each other
They barricade their hearts away
It even happens in relationships that are "good"… but lack nurturing.
Whether your relationship is wrecked, a little troubled, or good… These are things that you must do to bring healing, restoration, and extraordinary loving!
1. DREAM AGAIN, BOTH INDIVIDUALLY AND AS A PARTNERSHIP
Many of us do not understand the power of dreaming.
Neuro research tells us that when we dream, our brains begin to release serotonin and dopamine, two of the neurochemicals that create feelings of love and connection.
These neurochemicals not only create feelings of love and connection, but they washover and subdue neurochemicals, like cortisol and catecholamines, which create the angst when a relationship is struggling.
Yes! Just a few moments of writing about what could be, and dreaming, creates this whole cascade of neurochemicals which create those feelings of love … and soothes the angst.
I know that if I just tell couples to dream together, they don't know where to start.
I'd like to suggest that you do as I assigned this couple.
I handed them each two sheets of paper. The title of each of the sheets was "A Perfect Day." The first sheet that I handed tp each of them had a subtitle: "For Me In My Life."
The second page had the subtitle: "For Us In Our Relationship."
I told them I was going to set the timer for 15 minutes, and I wanted them to write and, not stop writing until the time went off. To imagine that there were no limitations and no challenges with time, money, jobs, responsibilities, etc.
Because it's always difficult to get started, I gave them an example for each.
For my life:
"I wake up in the morning with the sun beaming through the blinds. I get up and open the sliding door and step out onto the deck and I hear the sound of the ocean which warms my heart …"
For us as a couple:
"We wake up as the sun comes beaming in and squeeze hands. One of us goes and makes the coffee, while the other calls our private chef to let him know that we are ready for our fruit, poached eggs and healthy protein which he will prepare for us on our deck…"
Of course the full-time entertainment husband challenge me with: "How about she fixes the coffee and I go get the donuts?" We all had a good laugh as I set the timer.
It was amazing how much love and tenderness flowed between them when they both spent just a few minutes dreaming.
What about you? Don't you think your relationship, regardless of its current state, could benefit from dreaming?
Take the time to do this together, and your brain will take it from there! Expect for love to increase and for disappointment to decrease!
2. LISTEN … REALLY LISTEN! LISTEN TO WHAT SAID … AND TO WHAT IS NOT BEING SPOKEN
I call listening a "lost art." I have to teach about 90% of the people who step into my office how to listen.
Perhaps it's because of the stress we live under and our busy-ness. I remember when I would go to my Mamaw's house in Arkansas for the summer, people would sit out under the trees or on the porch in the evenings and talk. No interrupting, no talking over one another.
At the time I could not identify what was different, but now I know it was that they were listening. Really listening.
Research reveals that the average American couple speaks to one another 24 minutes a week. But only listen to one another about 8 minutes a week. No wonder we don't feel "heard!"
Let me give you a mini lesson: here is what listening is not:
Formulating your response
Building your case
Interrupting
Talking over one another
Agreeing or disagreeing
Fixing
Rolling your eyes
Sighing
If you do those things, you are making it about "you." And you are not there for the other person, and that is NOT listening!
Listening is:
Reflecting, validating, empathizing
Making eye contact
Listening for feelings
Watching for unspoken messages
Seeking to understand
Being present
Avoiding distracting behaviors
It's time we put our Mickey (or Minnie) Mouse ears on and really listen to one another. But not just to hear the words, but to seek to understand.
You can imagine the expression on the comedian husband's face when I pulled a Mickey Mouse headband out of the drawer of the table between himself and his wife.
I handed them to him and said, "Tonight we're going to learn how to listen ."
Listening is truly a lost art. But you can find it! Implementing it into your relationship will bring great healing, love and connection!
Get your Mickey Mouse/Minnie mouse ears out and give it a go!
3. MAKE NOTE OF THE BARRICADE AROUND YOUR HEART
It happens to all of us. We've been hurt too many times, we've tried and tried to make things better, we don't know what else to do.
Finally, we build a steel barricade around our hearts.
Once the barricade is built, there are several problems:
Nothing that could be healing between you can get in
Nothing that you might like to do to create healing can get out
And sadly, the barricade is not selective.
Once you build it with your partner, it affects your relationships with your kids, your family, your friends, your coworkers.
This is not to shame you for having a barricade. No one builds one without reason or cause. And it's not something that is an event. It goes up one block of steel or brick at a time.
And often, we don't even realize it is there.
All I'm asking is that you make note of it. In the next step we will talk about disassembling it, or better yet, blowing it up with a stack of TNT!
Here are some of the symptoms that you might check off for yourself to determine whether or not you might be barricaded in and not even know it:
People ask you "what's wrong?" often
At times you feel numb
Things that once brought tears to your eyes (like the national anthem, etc.) seem to leave you unmoved
You avoid movies or series that might make you feel sad
You respond more harshly than normal
You feel drained of energy
Your mind feels "foggy" at times
I list these because often people are unaware of the barricade around their hearts.
With my couple, I had asked him if he had barricaded his heart away? After a moment of thought, he said, "I don't think so."
Her response revealed as much about herself but also revealed something about him: "I know mine is barricaded off and I hate it! But yours is too!"
I handed him a tablet and a pen and began reading off some of the symptoms . Before I could ask him how he fared, he plopped the tablet and the pen on the side table and said, "OK! You got me again! Hell! I checked every single one of them!"
What about you? I only listed a few of the 20 I to read out to him. But how many of them can you check off?
As I reminded him, no need to feel badly about it. Recognizing it is half the battle won! But if you don't know it, you are creating a lonely life for yourself. I don't want that for you!
4. REMOVE THE BARRICADE … BRICK BY BRICK OR STEEL PLATE BY STEEL PLATE
If you've been doing all of the exercises above, you should be ready to remove the barricade.
It can be scary! Very scary. Particularly if you've been hurt by more than one person.
If that's the case for you, I am truly sorry. I'm not suggesting that you be careless or wreckless, but as I said above … keeping your heart barricaded is not selective, and hurts you!
So how on earth can you go about removing the barricade? Well, there are actually two ways:
Brick by brick or steel plate by steel plate
Or blowing it up with a stack of TNT.
I will address each of the ways.
If you're still feeling hurt and vulnerable, brick by brick or steel plate by steel plate might be a better way for you.
You can do this by being one step more vulnerable today than you were yesterday. And each day take at least one brick or one steel plate down.
For the couple that I have been writing about, the wife chose this way. She realized that her barricade had hindered many relationships, and she wanted very badly to believe that she and her husband were finally on the right track.
I asked her how she planned to do that, and she said that day by day she was going to resume doing the "little things" that she had once done for him, but because of pain and frustration, she had stopped.
Things like passing by the sofa when he was watching TV and rubbing his shoulders for a moment. Picking up his clothes from the cleaners. Complementing him.
I asked her to do one of those things in the session. With a twinkle in her eye, she got up and went behind his chair and began rubbing his shoulders and said to him: "Your turn to deal with your barricade!"
He said it might take him all day to decide if she was going to rub his shoulders. The moaning he was doing would have made you think they needed to "get a room!"
He chose the TNT method. He said, I know me… If I say I will do it little by little, I will forget, or I will get distracted and just not do it.
I asked him what that would look like, and he told me that he would like for it to be a surprise to her and they would tell me later.
The video I received from them was not only very touching, but it was funny as you can imagine (since he is such a comedian!)
He had gone out into their backyard on their deck, and had stacks of empty Amazon boxes. They were piled at least four or 5 feet tall. On each box, he had written with a magic marker words of thing she had said that he was doing that kept them distant.
Here were some of the ones that I could read from the video:
Sports addiction
No eye contact
Not kissing her good night
Dinner in front of TV
Social media instead of listening
He took her out into the backyard, and had one of his basketballs. He told her he wouldn't be using that ball as much and he would like to use it to knock down his barricades. He threw the ball at the Amazon boxes which went flying.
Behind them was a bouquet of heart shaped mylar balloons with messages like "I love you" and "You are awesome.".
He told her that the barricade was gone and his heart was hers. They laughed and cried together.
Which method will work best for you? And when will you get started? You can neither give nor receive love from behind the barricade. You have so much love to give and you deserve to be loved.
Start working on the barricade today.
5. BE GRATEFUL
Don't let one day go by that you do not share gratitudes for one another. Gratitude for doing the work together. Gratitude for giving your relationship your attention. Gratitude for giving it another chance.
I suggest all of my clients that they keep a gratitude journal. But when we have completed the first four steps, I add an exercise to their gratitude journal.
I suggest that at least three times a week, when they are both writing things in their gratitude journal, that they exchange them. And write a quick gratitude note, saying what they are grateful to the other for.
The first entry the wife of the couple I was working with made in his gratitude journal was this: "You have become the man of my dreams. I am so grateful for you, and your dedication to giving our marriage a real chance!"
His first entry in her gratitude journal was: "I am grateful that the sparkle is back in your eyes, your laughter has returned, and that our intimacy is better than ever!"
Looking back on those entries can be very special as you move forward. As healing partners!
I tell couples to verbalize at least three gratitude to one another daily. Whether in person, via text, or some other manner of communicating.
Gratitude sets your reticular activating system (RAS) in your brain to looking for the best in the other. And it makes your life sweeter and your marriage richer!
Check in again next week as we continue talking about resurrecting wrecked relationships. Yes … it requires some work, but you are worth it, the person you are in relationship with or married to is worth it! And the relationship is definitely worth it!