"After you made me do that self-assessment thing, and my accountability group wanted me to work on at 998 things instead of three, I'm not sure I take any more this week!"
If you've been following me for the past month, you know I began the series working a couple through a marriage who thought I would agree that there was too much sewage under their bridge. They came wanting me to pronounce it dead!
I know that there are times when all of us feel like our relationship is dead. But in 99.9% of cases (except where abuse is involved), any marriage can be resurrected, restored, and reignited!
I've been sharing with you five ways to do that for each of the past five weeks.
In case you missed it, these are the topics:
I. CHANGE THE ATMOSPHERE AND CULTURE OF YOUR RELATIONSHIP (AND YOUR HOME) (Click here to read more).
II. JOIN HANDS AND BECOME PARTNERS … HEALING PARTNERS (Click here to read more).
III. DREAM TOGETHER ABOUT THE RELATIONSHIP YOU WANT, LISTEN WITH YOUR MICKEY/MISSIE MOUSE EARS ON, AND TAKE THE BARRICADE OFF YOUR HEART (Click here to read more).
IV. TAKE RESPONSIBILITY FOR WHO YOU ARE IN THE RELATIONSHIP AND TAKE MASSIVE IMMEDIATE ACTION TO CORRECT AND/OR IMPROVE IT! (Click here to read more).
V. DEVOTE 30 TO 40 MINUTES EACH EVENING FOR HEALTHY COMMUNICATION, ALONG WITH GRATITUDE FOR PROGRESS!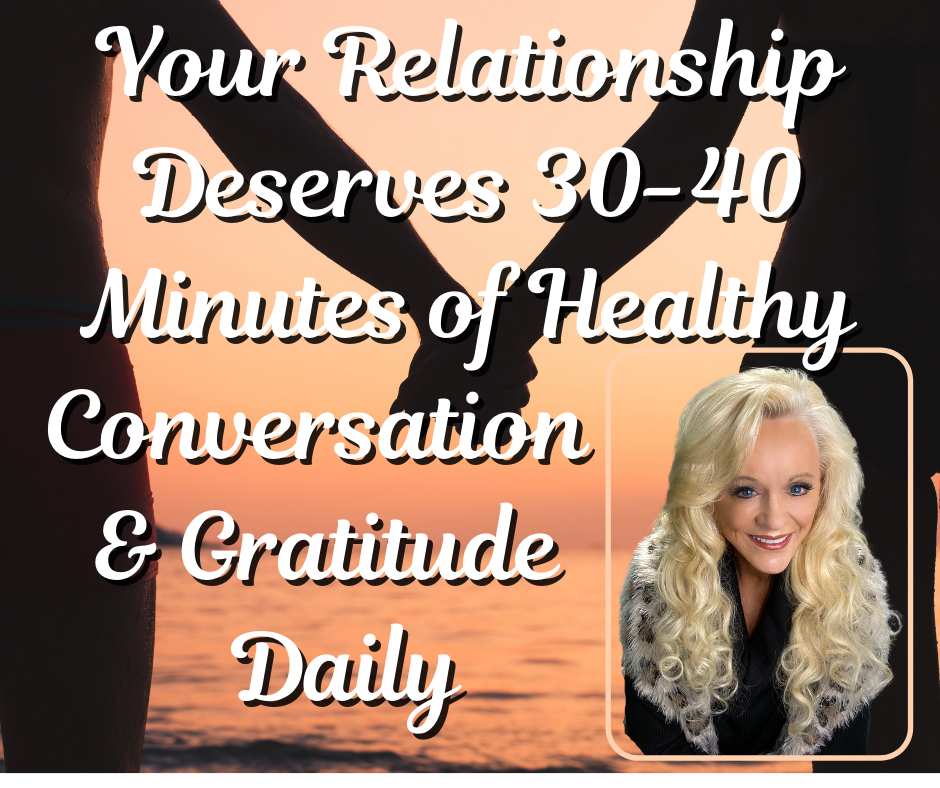 This week we are looking at the fifth way to restore any relationship. when I shared with my couple what this week was all about, the comedian husband said, "I've never spent 30 to 40 minutes in my entire life where I didn't act out, end up in trouble, or zone out!"
After spending a number of weeks with them, I was certain that was likely a true statement! But …
Not only did he accomplish what he had thought to be impossible for him, but I believe their marriage is now as solid as a rock! The same can be true for you and more!
This week we are addressing the fifth way to resurrect and restore any relationships!
V. DEVOTE 30 TO 40 MINUTES EACH EVENING FOR HEALTHY COMMUNICATION, ALONG WITH GRATITUDE FOR PROGRESS!
Here are the steps to make these 30 – 40 minutes meaningful, healing, and ultra-connecting!
1. LEARN TO REFLECT
The first thing that you must note about this daily interchange is that we are watching one movie at a time. I suggest couples rotate who goes first every other day.
What does it mean that we are watching one movie at a time? It means that you are focused 100% on what the person sharing is saying.
Not:
On agreeing
On disagreeing
Your response
Your opinions
What you wish they were saying
What you wish they were not saying
Your interpretations
Instead, as someone said recently: "For once in your selfish life, listen to me!"
You are seeking to understand. At least once a week in my office, someone says: "I just do not understand." Ninety percent of the time, that means, "I'm not really listening."
I help people who don't understand to sincerely asked for clarification later, but not during the sharing.
Since Stephen Covey shares beautifully about seeking to understand before seeking to be understood, most people think it originated with him. But it originated in the 1200s from Saint Francis of Assisi.
It is especially important how it is defined for the purposes of reflecting:
Having a frame of mind and heart that empathically listens to others first before seeking to be understood in all human interactions.
Certainly nothing in media, sports radio, newscasts, or social media promote such a concept. They speak over one another and argue before listening. Often in combative interactions.
If you listen carefully, you will be able to reflect. All of these communication steps (reflecting, validating, and empathizing) have stem sentences that you must use.
Why? Because these stem sentences train your brain to listen, to hear, and to understand.
After the sharing partner has spoken a few minutes or a few paragraphs, and pause you begin with:
"I THINK I'M HEARING YOU SAY…"
Then summarize succinctly what you believe you have heard with no interpretations, no opinions, just your straightforward reflection.
Then follow it up with the next stem sentence which is:
"DID I GET THAT RIGHT?"
If you got it right, they will nod or affirm. If you did not, they will clarify. Reflect the clarification and ask again:
"DID I GET THAT RIGHT?"
You may find in the beginning you have to do this a number of times until you get it right. That's OK… It's training you to be a better listener.
When they affirm that you got it right then you must ask:
"IS THERE MORE?"
Repeat that process until they say there is no more.
I encourage couples to do their best to limit their sharing to 10 to 15 minutes in the beginning. Because it becomes frustrating when one is trying to learn the process of reflecting if it goes on much longer.
This is not just repeating things word for word. It is letting your partner know you are listening and seeking to understand. That, in and of itself, is healing!
2. LEARN TO VALIDATE
Once your partner affirms that there is no more, then you must validate.
Why is validation important?
On Oprah's final episode of her powerful TV show, she highlighted the "why" for validation:
"I've talked to nearly 30,000 people on this show, and all 30,000 had one thing in common. They all wanted validation."
Validation. What is it? It's getting feedback from others that "what I do and what I say matters to you. You hear me. You see me. You think of me. You thank me. You acknowledge my accomplishments. You appreciate my efforts."
After reflecting, here is the stem sentence you must use for validation.
"IT MAKES SENSE TO ME THAT…"
If you listened well, your partner probably helped connect some dots for you about what they're thinking and feeling … And why they are thinking what they do and feeling what they feel.
Here's why people get hung up on this step. They think if they validate, they are agreeing. Validating and agreeing or two different things.
The comedian husband in my office really struggled with this exercise. It took a number of rounds for him to get the reflection down. But when it came to validation, despite his best efforts, his responses were not validating at all.
Finally, I asked him to look at me and speak with me for a moment
I asked him to tell me what she said that made sense to him. He said everything she said made sense to him.
I asked him to choose one thing that made sense to him. He said it made sense to him that it was a rude shock to her bottom when he left the toilet seat up and she went to the restroom at the middle of the night.
I asked him to say… "It makes sense to me that …" and then to put what he said to me in that sentence.
He looked at me and gave a typical response:
It's not his fault that the ceramic is cold on her bottom
She could just as easily check to make sure it was down as he could make sure he put it down
He was so tired when he got up to use the bathroom in the middle of the night there's no way he could remember if he left it up or down.
Don't laugh! You've done the same thing. Put the blame back on her, make excuses, explain it away.
With validation, you are not making any agreements to anything, and remember your opinions should be tucked away. Your thoughts should be tucked away. Your excuse making should be tucked away. You are watching her movie. Not yours.
Finally like a light bulb had finally come on, he threw his hands up in the air and said: "Well why the hell didn't you just say that?"
He validated it beautifully, and we all got a great laugh. Don't let yourself get caught up in those things. All you are trying to do is connect some dots about how the sharing partner is thinking and feeling.
Validating your partner is one of the top 10 things that I believe can bring quick and powerful healing to any relationship. And it costs you nothing, other than a little pride!
3. LEARN TO EMPATHIZE
After validating your partner, rest assured that you have made some huge deposits of love and care into their account.
Now it's time to empathize. My best definition of empathizing is walking a mile in their shoes. Not just to hear what you're saying, but to feel the very beat and activity of their heart.
Interestingly enough, most of us use our brains for communication. And that is certainly important. But to be a true healing partner and have rich relationships, you must learn to listen with your heart.
In the forming of the fetus, the heart is the first organ to begin to develop. It begins beating days after conception. It's not until about the seventh week that the brain begins to develop.
I relay that story to couples to remind them: "heart first … brain second."
When you listen with your heart, you will be more likely to be able to empathize.
The stem sentence for empathizing is:
"AFTER LISTENING, YOU MUST FEEL…"
Then do your very best to guess 2 to 3 feelings that they must be experiencing. Don't elaborate! Just sincerely try to communicate feelings you think they could be experiencing.
Followed by:
"DID I GET THAT RIGHT?"
If there's more that they want to add or gently correct, listen carefully, and start the process over. Reflect the feelings they shared with you and ask:
"DID I GET THAT RIGHT?"
If they begin to speak, listen carefully. If they nod positively, ask:
"IS THERE MORE?"
Continue to reflect their feelings until they say there is no more.
I then instruct the person who has been listening to embrace the other.
The intimacy and connection after this kind of sharing is profound.
Then take a break and trade places. The listener now becomes the sharing partner.
4. HAVE THE COURAGE TO ASK YOUR PARTNER HOW YOU ARE DOING
Once both have shared, I encourage both to be bold enough to ask accountability questions like:
How am I doing in our relationship
How am I doing with my communication?
How am I doing with filling your love tank?
How am I doing with being more affectionate with you?
Determine your questions based on things they have expressed and asked for.
Responses from the other partner should be done with TREKy talk. I say… No TREKy … No talky!
What is TREKy?
It is sharing the:
Truth with
Respect
Empathy and
Kindness.
Give honest but kind feedback.
This is not a time for criticism or complaints. It's time for honest feedback, working together as a team to make things better.
Again, it is a bold move, but it will ensure progress in your relationship and begin to bring healing and restoration in a powerful way.
It also keeps each on track for doing their part in the relationship and becoming accountable. There's no way to go but UP from there!
5. EXPRESS GRATITUDE
It is really important in these daily meetings to take time to express gratitude to one another for things that have happened in the past 24 hours.
This is important for two reasons:
It sets your reticular activating system (RAS) to looking for things to be grateful for
It creates a neurochemical cascade of "feel good" hormones that make us want to do even better
Let's start with the reticular activating system (RAS). It's a small piece of the brain that acts as our google search engine.
If we are upset with our partner, focusing on what upset us causes our RAS, our google search engine, to keep looking for things that upset us.
However, when we are looking for things to be grateful for, and to express at the end of the day, our RAS is making note of everything your partner does or says that is worthy of expressing gratitude for.
You must understand, that if you do not set your RAS, it's scanning for negative because our brain was created to seek survival. So, without purposefully setting it to looking for things to be grateful for and to acknowledge, it will be stuck on continuously searching for what is wrong, and even trying to predict what will be wrong.
Sad to say if your RAS is searching for what our partner has done to upset us or done wrong, they could do some wonderful things, but the RAS will not even notice, because that is not what it is searching for.
How sad that we could make efforts to do better, and a RAS set for what we do wrong will cause our partner to miss it altogether!
Secondly, research has shown that a cascade of "feel good" neurochemicals occur when someone expresses gratitude. Dopamine which feels good, serotonin which helps us connect. Then if it occurs for a few moments, oxytocin follows. That's the deep bonding neurochemical.
Study after scientific studies have shown the incredible results from expressing gratitude. Here are just a few:
Less exhaustion
Less criticism
More proactive behaviors
Higher rating of the health
Increase in emotional safety
Higher job satisfaction
Fewer illnesses
Less depression
Less anxiety
Less brain fog
Better overall health
More energy
When I did this exercise in my office with the husband who is often a comedian, I had her start with expressing gratitude to him. I asked her to start with the stem sentence:
"I AM SO GRATEFUL THAT… "
And to share three.
She said:
I am so grateful that you have been so kind, loving and tender toward me… Like the other night when you knew my feelings were hurt by our son, you came in sat and held my hand and told me what a great mom I was.
I'm so grateful that you are cuddling and snuggling with me at night again
I am so grateful that God gave you to me. I knew we were in trouble and needed help, but I never knew that God would turn you in to a better man than I even deserve! And I love you so much!
I was hoping he would not steal the power of the moment with humor. But I did not expect what happened next.
A man that I had met just a bit more than a month previously, who had been a bit harsh, very funny, but also very cold and distant … got out of his chair, went and knelt before her, put his head on her lap and tearfully whispered with a broken voice: "I don't deserve you, but I am so grateful to have you. You are my greatest treasure in this life, and I will never let you go! I will never grow cold again! I promise! Just give me a chance to prove it to you!"
As they embraced and cried together, I quickly dried my tears.
It had been a late evening and I had taken a quick shower and jumped into bed when I got home. As I put my head on the pillow, I said a prayer. The prayer was for you. That everyone who is working through this process would experience that kind of moment.
The moment that comes as a result of doing our very best to become the best version of ourselves. Our partner sees us differently and treasures us more than we've ever been treasured before.
That's my prayer for you, my friend. May you have that kind of tender moment to cherish!